New and improved way to encase solar cells!
Below, we show you how to use EVA film to protect solar cells. And, EVA is MUCH easier, cheaper and faster than using Slygard, also see below.
But, we've found an even better way to protect your solar cells and that's to use Flex Seal. You've probably seen the commercials on TV for it, and it's a great product. And it makes sealing solar cells quick and easy. If you want to make your own solar panels, you really should check out Flex Seal. And they have a "buy one get one free" special.
Tip: For solar cells, be sure to get either the clear or the white Flexseal because the black will retain more of the sun's heat and affect the performance of your panels. White will reflect more sun, while clear will let you view the cells. Your choice.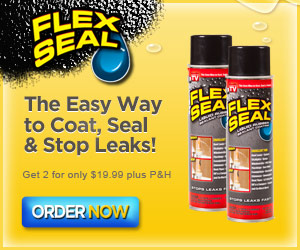 Click here to get 2 for 1 on the easiest way to protect your solar panels.
EVA Film - Encapsulate your solar panels. Check out this video by Brett and I made that shows you just how easy it is to use EVA film to encapuslate your solar panels to protect the cells and tabbing:
Here's up-to-date eBay auctions for two excellent materials for encapsulating your DIY solar panels, Slygard and EVA film. These auctions are updated twice a day to make sure they are fresh.
In the following article, Jerry recommends Sylgard to encapuslate solar panels. Brett and I prefer to use EVA film. We've found it to be much easier to work with, faster and alot cheaper.
Make Solar Panels - Home Solar Panels
By Jerry Standefer
Building your own solar panels has never been easier. With new building techniques, making your own power is now a reality. Today we have better quality solar cells that can be purchased at reasonable prices to keep your building cost to a minimum. If you are wondering what it takes to build your own solar panels, then look at the list I have compiled for you. Here are the items you will need to make your own solar panels.
Solar cells-You will need at least 36 solar cells to start with. I purchase my cells from a company in California called Everbrite´┐Ż. They have reasonable prices, plus when you order your cells you will receive extra cells because at first you will break one or two. You can order your solar cells in kits that include everything you need to get started.


Aluminum frame-I like to beef up my solar panel by purchasing 1/8" aluminum angle in at least 1" dimension, so that they will last for thirty years or more. The frame is to be the strongest part of your panel, so no skimping here.


Tempered glass-One thing that I learned about building solar panels, tempered glass is the best for making a system that will last and withstand all types of weather from hail storms, heat, and cold. I recommend 1/4" for strength and durability. Another good point to make here is that all your soldering can be done on this tempered glass which makes an excellent heat sink.


Encapsulate liquid-The best way to mount your finished solar cells to the glass is by using a special epoxy designed for manufacturing of solar panels. I used encapsulate from Dow´┐Ż chemical called Sylgard, which comes in two parts, an A and B which when mixed will bond your cells to the glass, completely covering them from the elements. It is important to let stand for at least four days to cure.


Soldering tools-What I have found is that a soldering iron of 40 watts works best for soldering your tab and buss wires to your cells. It is good to have extra soldering tips available, because you will be replacing them at one point during your soldering process.


Hardware-You will need miscellaneous hardware such as 1/4" machine screws, 1/4" nuts, 1/4" lock washers, small angle brackets to join your corners of the aluminum frame together, and angle brackets to hold your glass in place.
Anyone can build their own solar panels for home with the proper instruction and training. Visit Earth Power Energy Systems to see other tips about building your own renewable energy systems.
Jerry Standefer is owner and author of several alternative energy websites. His websites teach you how to build your own wind turbine, build your own solar panels, and build a solar hot water heater. The main website Earth Power Energy Systems has received many reviews from other energy websites. Sign up at the website for a free energy report entitled "Why Build Your Own Wind and Solar System" Get your copy today! Follow Jerry on Facebook Fan Page and join in on the discussions about alternative energy.
Article Source: http://EzineArticles.com/?expert=Jerry_Standefer
http://EzineArticles.com/?Make-Solar-Panels---Home-Solar-Panels&id=6234666